Malaysia Day is celebrated annually every 16th September by all Malaysians. It's a time to remember and appreciate our country's diversity and rich history. This month, two significant events, DiverseCity KL and Sibu International Dance Festival celebrate cultural richness through the performing arts.
Good news for Formula One enthusiasts, the F1 Petronas Grand Prix is back in Sepang. The FRIM Canopy Walkway has also re-opened and nature lovers can once again enjoy nature right here in Kuala Lumpur.
If you're in Borneo area, go and experience the Borneo Bird Race 2016 in Sabah and Borneo International Kite Festival 2016 in Sarawak. The Royal Pahang Billfish International Challenge is also a way to promote our fishing sports internationally.
The Mid-Autumn Lantern Festival 2016 in Penang and Fly Daily with Myballoon Adventure in Putrajaya are perfect for an outing with family or friends.
To give you some ideas of what to do this month, here's a line-up of well-balanced events for tourists, both local and foreign, to enjoy in Malaysia. Plan your trip well, or engage the services of a licensed tour operator/travel agent.
Corporate Communication Division, Tourism Malaysia.
F1 Petronas Grand Prix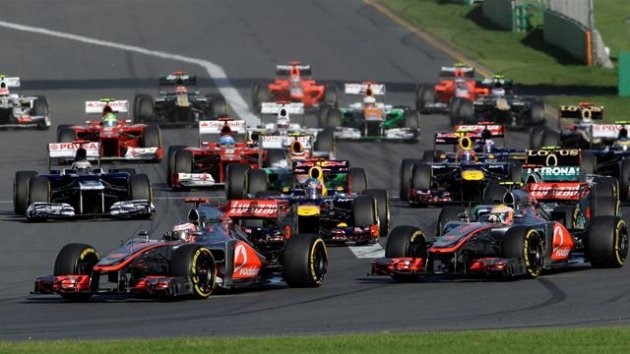 Held right after the Singapore F1 Grand Prix, the Malaysian leg of the race offers a unique double F1 treat in Southeast Asia. With an exciting cluster of events throughout the race week, including a demo run, auto carnival, fan engagement programmes with the drivers, and a spectacular post-race concert, the newly redefined F1 is not to be missed! Families looking forward to soaking up the thrills at Sepang can enjoy an improved family-friendly activity at the circuit with the ever popular X-track returning on popular demand, showcasing motorsports-themed thrills such as drifting, rallying, go-karting, ATV rides and more, for fans of all ages.
Date: 30 Sep – 2 Oct 2016Venue: Sepang, SelangorOrganiser: Sepang International Circuit Sdn. BhdContact: +603 8778 2200Website: www.sepangcircuit.com
Borneo International Kite Festival 2016
This is the 12th time that the kite festival is held in this seaside town of Bintulu. The huge windy open space of the old Bintulu Airport that faces the South China Sea provides ideal consistent flying conditions that kiters love. This also explains why four records of magnitude number of kites have been set since its inception in 2005.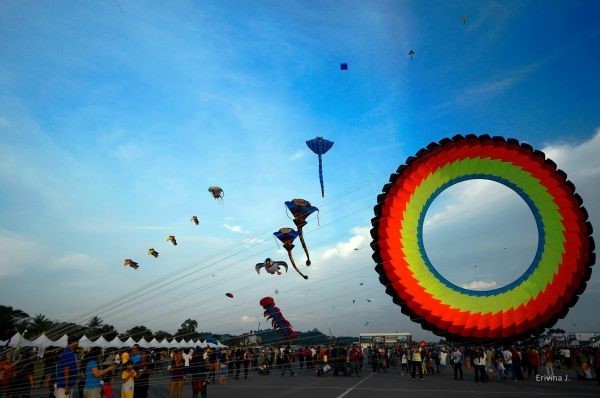 This year's festival sees 2,500 diamond kites being launched, forming the longest kite tunnel arch of 500 meters with 400 kiters from 25 countries participating at this festival. This family-fun event comes with cultural performances in the evening. Make a day trip to Similajau National Park as a side-trip.
Date: 28 Sep – 2 Oct 2016Venue: Bintulu, SarawakOrganiser: Bintulu Development AuthorityContact: +6086 332011Website: www.sarawaktourism.com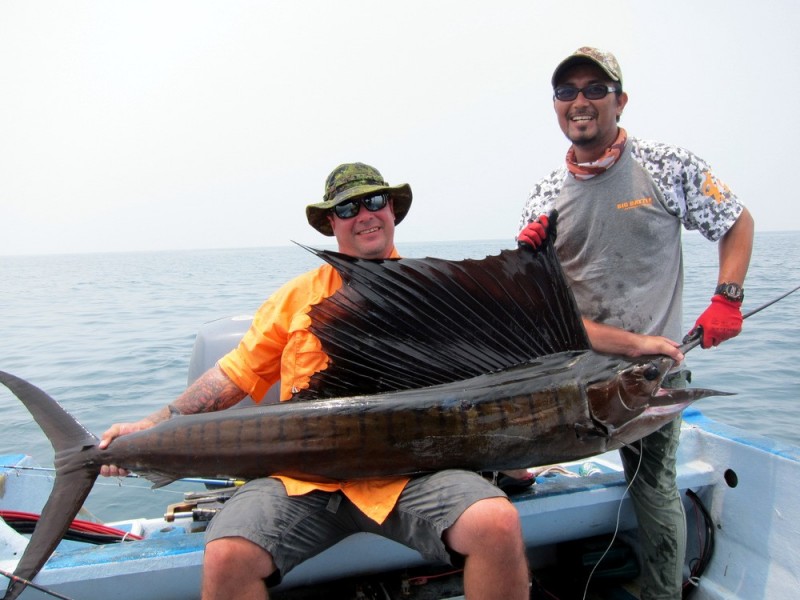 Royal Pahang Billfish International Challenge
This is an annual international event of Pahang to promote sport fishing in the waters of Rompin. The concept of the competition is 'Catch and Release' to ensure there is no extinction of fish species.
It's also aimed to showcase the area as the "Billfish Capital of Asia''. The billfish at Kuala Rompin are not big in size but you can't deny its beauty, incredible fighting spirit, breath-taking high leaps, somersaults and tail dances that forces your fishing line to go off.
Date: 23-25 Sep 2016Venue: Rompin, PahangOrganiser: Tioman Development AuthorityWebsite: www.rpbic.com.my
Borneo Bird Race 2016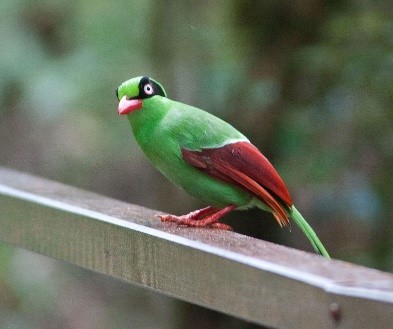 The notable Borneo Bird Festival has popularised bird racing for five consecutive years before introducing the first Borneo Bird Race in 2013. Since then, the event has helped in the awareness, conservation, and promotion of Borneo as a birding destination. In fact, there was an encouraging growth of birdwatching activities and a number of bird races conducted separately all over the region. Now participants from near and far travel to Borneo in search of more than 400 species of birds in a wide range of habitats from the coastal regions, freshwater swamps and lowland forests, to the hills and mountain ranges of Sabah, Sarawak and Brunei.
At the Borneo Bird Race, participants will enjoy the beauty of this land as they count the number of recorded species, and the longest list shall earn the prestigious "Bornean Bristlehead Trophy". The event is jointly organised by Brunei Tourism Board, Sarawak Tourism Board, Sabah Tourism Board and Tourism Malaysia.
Mid-Autumn Lantern Festival 2016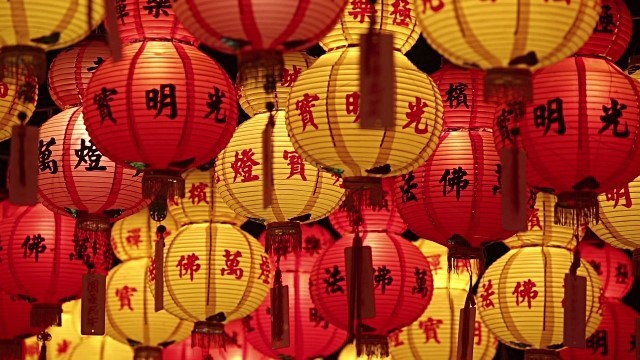 The Lantern Festival or Mid-Autumn Festival is celebrated widely by the Chinese community in Penang and is a time when family and friends gather together to admire the full moon while savouring moon cakes, chinese tea and parading around with colourful Chinese lanterns. Karnival Pesta Tanglung Negeri Pulau Pinang is an annual carnival jointly organised by the youth sections of five dialectic associations in Bukit Mertajam, Penang.
Date: 15 Sep 2016Venue: Nibong Tebal & George Town, PenangOrganiser: Penang Global TourismContact: +604 264 3456Website: www.mypenang.gov.my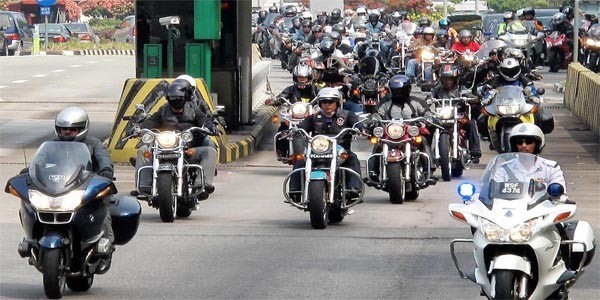 PD International Bike Fest 2016
The Port Dickson International Bike Fest is an annual tourism event that unites bikers. Highlights include a high powered motorbike exhibition, bike owner's carnivals, arm wrestling competition, exhibition and booths by motorcycle clubs and motorcycle accessories companies.
Date: 2 - 4 Sep 2016Venue: Port Dickson, Negeri SembilanOrganiser: Negeri Sembilan Tourism BoardContact: +606 765 9725Website: www.mybikersevents.com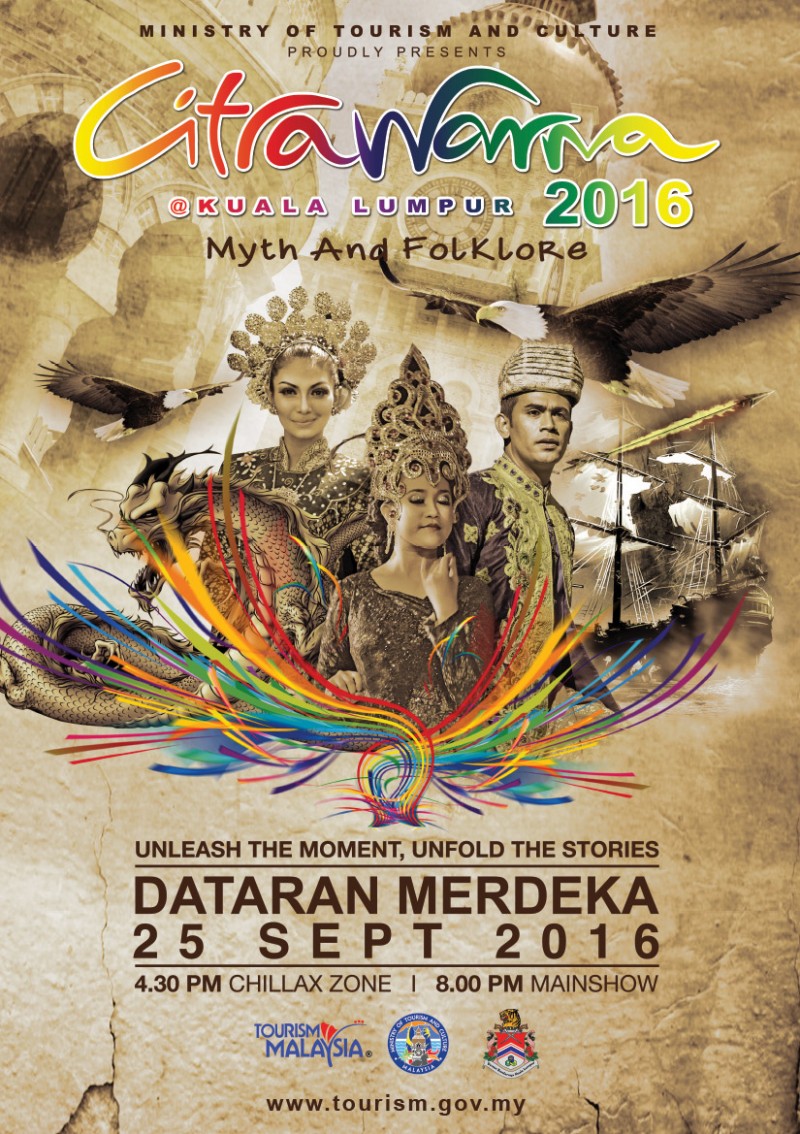 Citrawarna
Citrawarna 2016 is back with a "Myths and Folklore" theme that will take audiences on a journey of Malaysian legends and tales. This year's Citrawarna will use the street parade and dance drama as the main concept for the theme. The highlights of the event are the performances from every state such as Mount Ledang Princess, Merong Mahawangsa, Legend of Cik Siti Wan Kembang and many more including Sabah and Sarawak myths and folklore stories together with the Chinese and Indians cultural performances.
Date: 25 Sep 2016Venue: Dataran Merdeka. Kuala LumpurOrganiser: Ministry of Tourism and CultureContact: +603 8000 8000Website: www.tourism.gov.my
DiverseCity KL 2016
September 2015. Held for 5 weeks every year across multiple venues in Kuala Lumpur and greater KL, the ambitious programme of performing and visual arts in each year of DiverseCity will showcase the complex, rich and nuanced diversity of Malaysia and explore our close ties and deep relationship with the ASEAN community.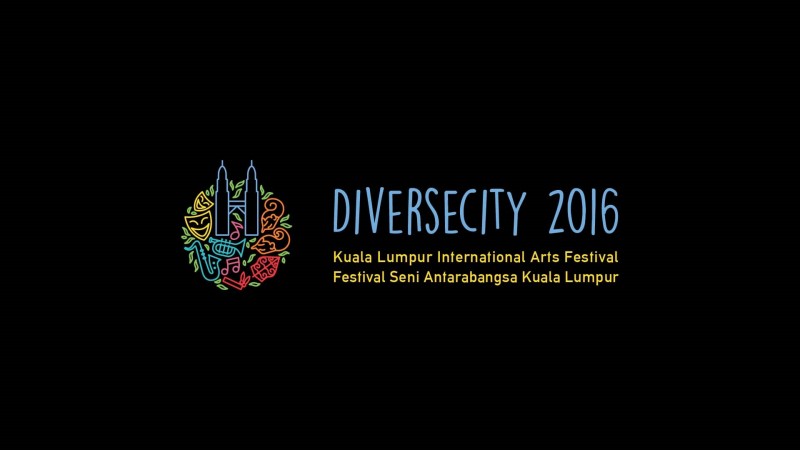 From the performing arts to visual and literary arts, DiverseCity has put together an acclaimed line-up of signature performances featuring celebrated international stars and prominent Malaysian talents, which will enhance Malaysia's reputation as an artistic hub.
Among the highlights are:
The specially commissioned "Feet on Fire" which sees the first-time collaboration between internationally renowned Flamenco maestro Antonio Vargas and leading Malaysian exponents of Indian Kathak dance and music.
The critically-acclaimed "King of Ghosts" by British Indian composer and virtuoso player of the sarod Soumik Datta, brought to Kuala Lumpur for its Asian premiere.
The award-winning and critically acclaimed LaLa Luna, a joyful solo creation from one of today's masters of physical theatre, Wolfe Bowart.
So, quickly mark your calendar and check out all the great performances and events brought to you by DiverseCity 2016, most of which are free!
Date: 31 Aug – 2 Oct 2016Venue: Kuala LumpurOrganiser: diversecity 2016 secretariatEmail: diversecity2016@rantaupr.com
Website:
www.diversecity.my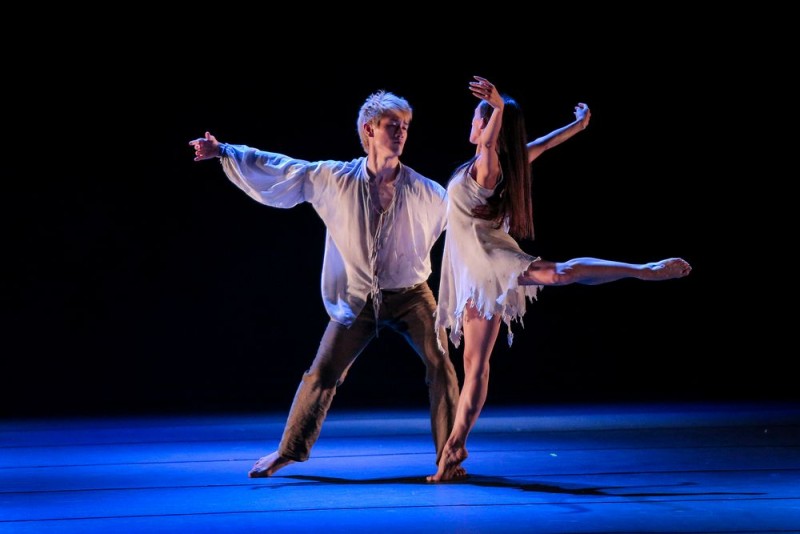 Sibu International Dance Festival 2016
Sibu International Dance Festival (SIDF) was first initiated and organised by the Hornland Dance Theatre, Sibu. The activities of the festival take place at indoor stages, outdoor stages, and even on the corners of the streets to draw and encourage more people to join the festival and be involved more directly and personally with the performers.
SIDF aims to become the world platform for the artists and arts organisations on local, regional and international levels to exchange dialogs, concepts, experiments, explorations and displaying the diversity of dances, and of course, to facilitate the development of tourism, art and culture in this region through this event.
Date: 9 – 13 Sep 2016Venue: Sibu, SarawakOrganiser: Hornland Dance TheatreContact: +6084 349932Email: sidfestival@gmail.comhttp://sidfestival.com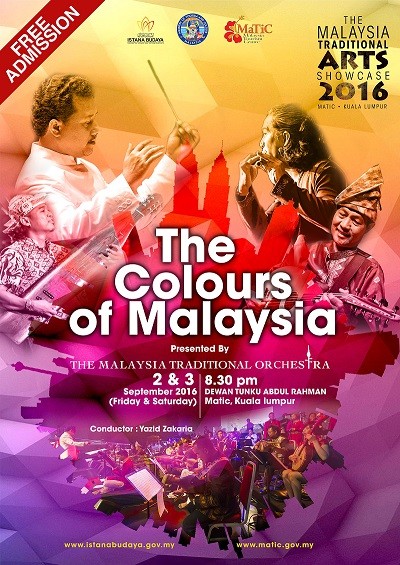 The Malaysia Traditional Arts Showcase 2016
The Malaysia Traditional Arts Showcase 2016 will be held in Matic, Jalan Ampang, Kuala Lumpur, presenting three different showcase which is Mak Yong "Dewa Indera Indera Dewa", The Colours Of Malaysia presented by "The Malaysian Traditional Orchestra (OTM) and dance drama "Puteri Lindungan Bulan".
All the shows staged is a production of Istana Budaya.
Date: 2 – 3 Sep 2016Venue: Dewan Tunku Abdul Rahman, Matic, Kuala LumpurOrganiser: Istana BudayaContact: +603 4026 5555
Website:
www.istanabudaya.gov.my
NEW ATTRACTION
NINJAGO Universe arrives in Legoland Malaysia

Legoland Malaysia will soon have an added attraction this November, "Lego NINJAGO: The Ride" that will immerse guests in the NINJAGO Universe.
The NINJAGO series tells the story of four young ninja heroes – Kai, Jay, Cole and Zane – who train under the watchful eye of Master Wu to master an ancient martial art – Spinjitzu. "NINJAGO: The Ride" enables guests to demonstrate their ninja skills without the use of a hand held device and instead, they simply use their hand gestures. Riders collect points for their training and battle efforts throughout the ride. Guests can also watch "NINJAGO: Realm of Shadows", a permanent indoor attraction where Japanese style puppetry brings the NINJAGO story to life.
The NINJAGO addition complements the fast growing Legoland Malaysia attraction which already has a water park, a hotel and the rides and attractions already well-loved by many.
Date: November 2016Venue: Legoland, JohorOrganiser: Legoland Malaysia Resort
+607 597 8888
Website: www.legoland.my
Fly Daily with MYBALLOON ADVENTURE!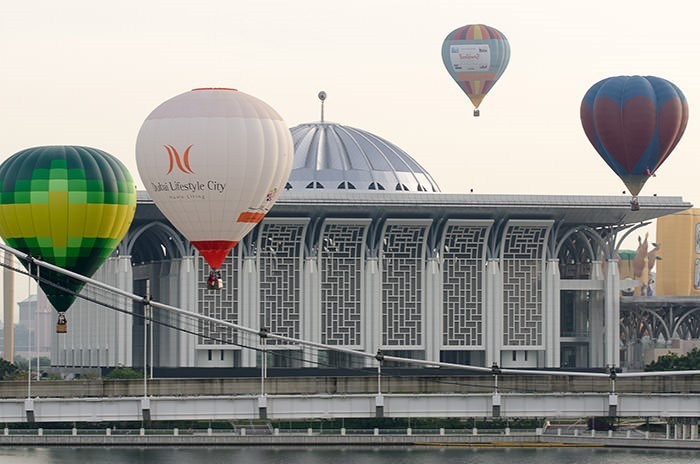 Experience first-hand what it's like to soar in a graceful hot air balloon and gain an unforgettable bird's eye view of Putrajaya, just a stone's throw away from the city of Kuala Lumpur. Greet the stunning sunrise as you float majestically through the sky as early as at 7 am on a 45- to 60-minute ride along breath-taking vistas of Putrajaya.
Passengers can choose from three available packages namely the standard, full board and premium packages. The package price range is between RM850 p/pax and RM 1,150 p/pax. For those who want to create special memories with their loved ones, this adventure is perfect for any occasions such as for birthdays, anniversaries and holiday celebrations.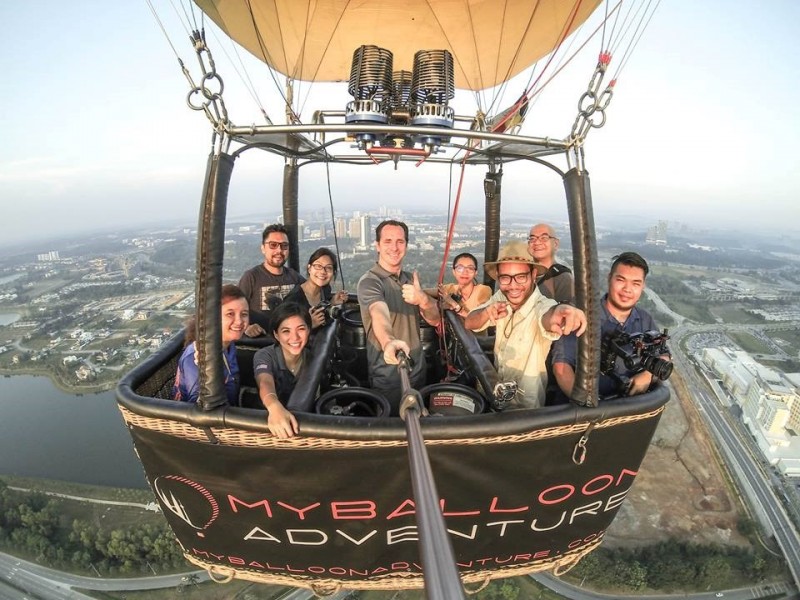 Date: Open dailyVenue: PutrajayaOrganiser: Myballoon Adventure Sdn BhdContact: +603 9044 0104Email: info@myballoonadventure.com
Website:
www.myballoonadventure.com
FRIM Canopy Walkway
The Forest Research Institute Malaysia (FRIM) is the largest man-made forest in the world. Some 80 years ago, the FRIM grounds were little more than abandoned tin mining pits, with some vegetable gardens and shrubby forest. Since 1926, pioneer foresters and scientists began planting various tree species and they nurtured the forest back to life. Today, besides being a centre for forest research, and thanks to its proximity to Kuala Lumpur, FRIM is a popular recreational and ecotourism destination among visitors who enjoy the outdoors. Besides the nature trails, arboreta, cycling tracks, museum, and other facilities, the highlight of FRIM is certainly the canopy walkway.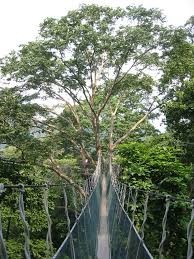 The FRIM Canopy Walkway is a famous attraction constructed in 1992 for the purpose of scientific study of flora and fauna. This walkway system spans over 150 meters and is suspended between trees at approximately 30 meters above ground level. This walkway system and its platforms provide vantage points to experience a panoramic view of the forest and Kuala Lumpur area from a distance.
The canopy walkway is now re-opened to the public from 9.30 am to 1.30 pm. It is closed on Fridays. Advance bookings must be made one week before and ticket purchasing should be made at FRIM One Stop Centre. For the sustainability of the walkway system, FRIM allows up to 60 persons to go on the hanging bridge per day. Therefore, early bookings are encouraged to avoid disappointment. For group(s) of 10 pax and above, reservations via email are needed and you are also required to hire a nature guide (for RM120.00/group) for safety reasons. Reservations for activities can only be made during office hours on Monday – Friday from 8.00 am – 4.30 pm.
Venue: Selayang, SelangorOrganiser: Forest Research Institute of Malaysia (FRIM)Contact: +603-6279 7592 / +603-6279 7649Email: frim_enquiry@frim.gov.myWebsite: www.frim.gov.my
All information is correct at time of publication.
Visitors are advised to contact the event organizer for the latest updates.
-Tourism Malaysia.